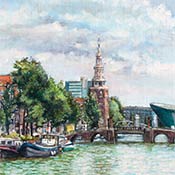 Painting and sketching while traveling actually helps me relax. It also helps me slow down enough to really experience the place I am visiting. I must admit that giving up time to travel can make me a little anxious, because I think I should be working on the larger pieces for my next show. But painting on locations is an activity that makes me feel like I working while I travel, but also enjoying the discovery of new places.
I recently traveled to Dublin, through Scotland, and ended up in Amsterdam. Although each location has its share of great art and experiences to discover, I try to do at least one work at each location I visit.
When I travel I usually bring my oil paints with me. I work small, due to luggage considerations, and my painting gear is usually more then half of the weight of my my luggage. I bring a few basic oil colors. I usually take an alkyd white to help the painting to dry quickly and I use a small easel that attaches to a tripod. The key is to keep it as light and easy to carry as possible.
I paint at a chosen location each day of my stay or as much as my stay allows. I have to select my subject quickly, since there is usually not a lot of time to waste. Most of my locations usually end up a few blocks from where I am staying.
Most of my sketchbook work also happens on these trips. Some of these recent sketches can be seen in my sketchbook portfolio.
Here are two paintings that were made in this trip.
Happy painting.